CANDY COLLECTION
Mia Mar Candy Collection is inspired by gold candy and chocolate packaging often gifted during winter holidays. Elegant black ankle boots feature gold candy wrappers bound with satin ribbons. The backpack looks like a gold chocolate foil wrapper. One model of the backpack is hand-lettered as a Mia Mar Chocolate label - a hidden advertisement for the new collection, inviting onlookers to visit www.mia-mar.com for other fashionable candy bars.
SOFT COLLECTION
Soft Collection is comprised of the softest backpacks you can imagine. Inspired by vintage velvet pillows, it's as if you took your favorite pillow out to town. This backpacks invites you to take a break in the middle of a meeting, standing in line at the bank or while commuting in public transport. Be creative in your resting location! This collection is accessorised by limited edition (few pairs only!), handcrafted pumps with small soft cushions on the front, decorated with real retro pins I inherited from my grandfather. Every pump comes with different pins which makes it unique.
TIME MACHINE
Clox Time Machine is a new bag collection made from 100% Napa leather, decorated with interchangeable metal pins. Pins make it possible for everyone to create their own unique time machine by ordering the desired years of travel, special date or hour, parts of time machine engine, or designing a smiling humanoid machine. Each Time Machine bag is different and comes with pins arranged by the designer. If you get bored with a pin setup, you can change it yourself. The new Clox campaign features Ana Radišić as the model. An editor, TV anchor and a journalist, Ana is a perfect time traveller - never wasting a second, always knowing she can receive information from the past and see the best path for her future. This allows her to make only the right decisions and enjoy life to the maximum. Don't forget, in order to have a safe time travel you must not intervene in the time period you visit. Be only a hidden observer. To travel in style always carry your Clox Time Machine bag.
BOUQUET
Bouquet is a limited edition collection, with a unique shoe model featuring different flower bouquets arranged by Mia Mar. This model is an ideal shoe for all passionate flower lovers who love flowers but can't own one because all of them welt! This one won't :)
NUDE
Nude Model is a skin tone sandal that elongates your legs, blending perfectly into any outfit. The sandal has a male body silhouette, handpainted by Mia Mar, making each one unique. Funny and ironic Mia Mar shoes make you stand out in a crowd, bring smiles on other people faces, while at the same time looking elegant and unique.
NEW STORY
New Story model is a leather block heel pump with a book on the shoe front and a pencil and eraser on the shoe strap. It talks about new beginnings, new stories that we're making with each step. Mia Mar is not all about fashion any more, so part of the collection is a wooden pencil with a wire you can shape youselves and create your own name or drawing.
CUCKOO TIME COLLECTION
Clox, an accessories brand connected through a universal story about time, presents its first bag collection inspired by vintage cuckoo clocks. The collection consists of three clutches and three backpacks designed in minimalistic style. One bag depicts old roman numeral clock, the second one a cuckoo bird clock, and third one a clock circle where clock hands used to be. The cuckoo bird - inspiration for this collection - symbolizes freedom from time. Sometimes it's ok to let go of time and submit to what we enjoy no matter how long it lasts.
TAKE YOUR TIME COLLECTION
Perfection takes time, so this CLOX Collection is named Take Your Time. It reminds us how important it is to sometimes slow down and do it right. The photo campaign shows the production in a fun, surreal way, reminding us what every pair of shoes goes through before it ends up on our feet. All CLOX image campaigns tell stories about CLOX girls in a surreal and narrative way, as very passionate visual fairy tales.
TIME BOW
Our mini-collection shows the perfect unisex Clox accessory for all the couples in love. It reminds us of how important it is to share time together. You can always give Clox Bow Time to your lover and borrow it yourself later!
SUMMERTIME COLLECTION
Summertime is the first CLOX summer collection, quite special in that it consists of a sandal and a watch which can be taken off the shoe and worn separately as a necktie or a wristwatch. The new campaign, shot inside the Museum of Arts and Crafts, tells a summer adventure story about a passion for shoes and watches. It features a girl possessed by her desire for shoes, sneaking into the Museum at night in an attempt to steal the CLOX sandals on display. Her plan is foiled by the night guard who catches her and tries to remove the precious loot from her feet. However, she gets possessed by the beauty of the sandals as well! Giving in to their passions, both girls start their Summertime adventure, diving in a heap of CLOX candy boxes and merrily exploring the new models together.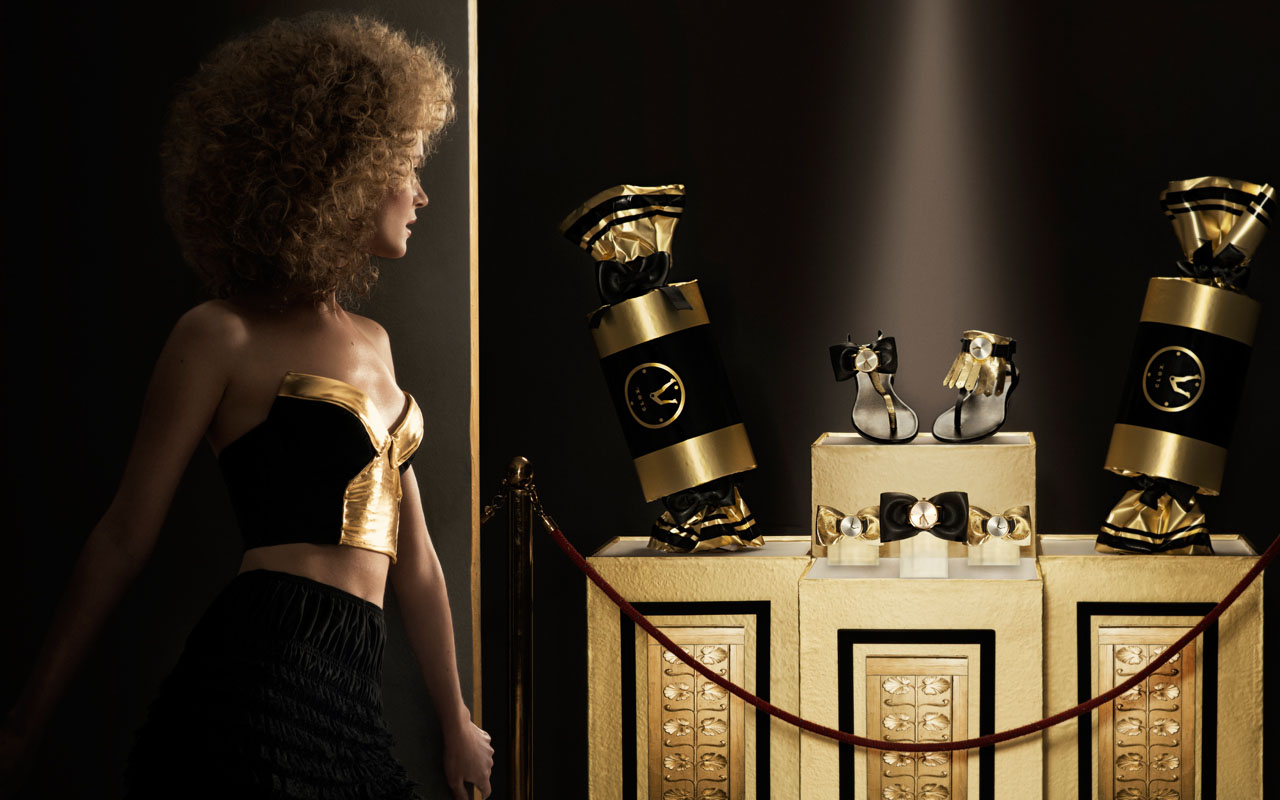 PASSION FRUIT COLLECTION
Clox woman is never lost. Even when she wanders into The White Forest, she uses her intuition to find the very tree rich in juicy fruits of fashion. Passion Fruit Collection is nothing but a reflection of herself - uninhibited, independent, different. It's made for women who always choose to take the hidden path and dare reach for the forbidden fruit.
CAKE COLLECTION
Amazing photographs by Mladen Šarić managed to capture a perfectly imperfect CLOX moment. A moment when a modern Master of Time surrenders herself to small passions of life, losing track of time, and ground under her feet. Showing a somewhat surreal view of stilettos and clock hands constantly racing with time, photos depict a woman that CLOX shoes were made for - a creative rebel who knows what she wants and uses time in her favor.